UNMATCHED FEATURES
Ideal Fusing machine for : SHIRTS: Fusing of collars, cuffs front placket. TROUSERS : waistbands, pocket flaps, etc.. COATS : coat inner front, pocket flaps, and all parts. SHOES/LEATHER : shoe upper, and all types of leather articles, KNITWEAR : Collars, Front placket and many other parts like Embroidery applique lining.
Production is greatly increased as this is a conveyer type fusing machine.
Actual Value precise digital temperature control gives best adaptability to fuse any type of interlining to any kind of fabrics.
Using the SSR, electronic switching, temperature difference is kept below +/-3°C.
Easy to replace belt, reduces maintenance down time
Fast heat up and cool down time enhances belt operation life.
Ultimate tracking through unique belt tracking device
low maintenance with few rollers compared to any machine available in the world.
Soft spring mounted tail roller for minimum belt tension.
Manual pressure system delivers up to 3Kgs pressure.
High quality endless belts for high life of the belt with no crease marks of fused articles.
All geared drive there by no chain loosening and misalignment.
Rotary scrapper for easy strip off of adhered fusing materiels.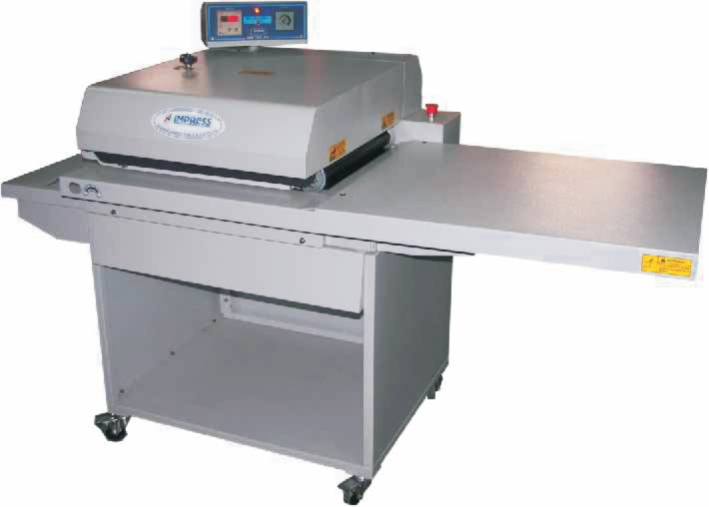 | | | | |
| --- | --- | --- | --- |
| Model | Fine Fuse 450S | Fine Fuse 450TT | Fine Fuse 450R |
| Belt width | 450mm | 450mm | 450mm |
| Heater | 4.0kw/hr | 4.Okw/hr | 4.Okw/hr |
| Temperature | 220°C Max | 220°C Max | 220°C Max |
| Power | 230VAC | 230VAC | 230VAC |
| Machine Dim | L31 "W78" H50" | L31 "W64" H50" | L31 "W70" H50" |
| Net weight | 145kgs | 120kgs | 160kgs |