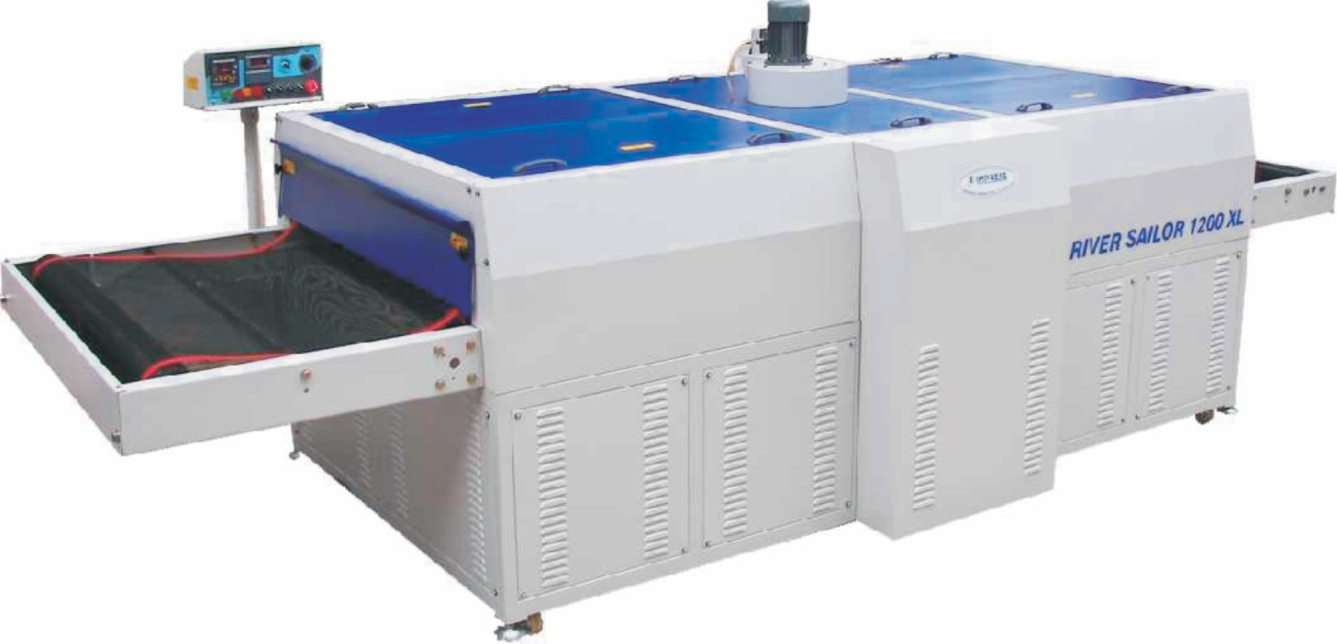 UNMATCHED FEATURES
Impress infra red curing technology consumes extremely less electricity, Installed with the best infra red tubes with perfect control on temperature and evenness of heat.
Curing machine with leading edge technology for Curing requirements of water base, plastisol, pigment and all types of inks.
RIVER SAILOR and MAXCURE comes to you with latest belt tracking mechanism for least swaying of the belt.
Very high insulation offers excellent heat retention.
Adjustable heating panel to feed very thick garments and jackets.
Actual value digital PID temperature control with SSR for extremely precise temperature.
Easy to lay 3 feet entry belt extension for feeding even ready garments and jackets.
Easy to replace belt reduces maintenance down time
Automatic cool down timer to shut of the machine after the machine is cooled down..
All world standard parts, there by economy in maintenance.
Non stick and heat resistant Teflon belt conveyer.
Adjustable entry and exit openings.
| | | | | | |
| --- | --- | --- | --- | --- | --- |
| Model | MC 600 | MC 900 | RS 900 | RS 1200 | RS 1600 |
| Belt width | 24inches | 36inches | 36inches | 48inches | 62inches |
| Heater/chamber | 6kw/hr/6feet | 12kw/hr/6 feet | 18kw/hr/10Feet | 24kw/hr/10Feet | 30kw/hr/10Feet |
| Temperature | 220°C Max | 220°C Max | 220°C Max | 220°C Max | 220°C Max |
| Power | 440VAC | 440VAC | 440VAC | 440VAC | 440VAC |
| L", W", H" | 138", 38", H 50" | 138", 50", H 50" | 186", 60" H 50" | 186", 72" H 50" | 186", 86", H 50" |
| Net weight | 300kgs | 450kgs | 700kgs | 950kgs | 1300kgs |